Utah business insurance quotes. Compare business insurance and liability plans. We offer group insurance, small business plans and commercial business insurance quotes.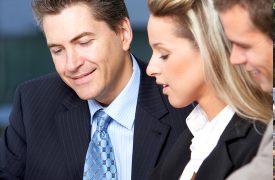 Utah Commercial Auto Insurance
This type of insurance covers certain legal liability resulting from bodily injury or property damage caused by the vehicles used in your business. Coverage can extend to vehicles that are leased, rented, or borrowed. You can also insure your commercial vehicles against physical damage from hail, fire, and other risks. Our insurance agents in Utah can provide you with additional information.
Why do I need commercial insurance for cars or trucks?
Whether your business owns one automobile, truck, or an entire fleet, auto insurance is a mandatory consideration. Businesses that own fleets of vehicles are at an increased risk of loss, and thus require more coverage. For example, vehicles parked together overnight are at risk of being destroyed in a single incident, such as a fire.
All states require vehicle owners to purchase a minimum amount of automobile liability insurance. Most states have separate minimum coverage limits for bodily injury to each person who is hurt in an accident, for bodily injury for all people hurt in the accident, and for property damage. Be sure to purchase enough coverage to protect your business assets — typically this amount will be much higher than the minimum limits mandated by your state.
Flexible Coverage Options that Work for Your Business
Bodily Injury Liability coverage for other driver's and passengers' injuries or death for which you are responsible.
Property Damage Liability coverage for damages to someone else's property for which you are responsible.
Comprehensive Coverage for your vehicle in case of losses resulting from an event other than an accident, such as theft or a tree branch falling on your vehicle.
Collision Coverage for your vehicle when your car hits, or is hit by, another vehicle.
Uninsured/Underinsured Motorist Coverage for your injuries, damages or death caused by an at-fault driver without insurance or without enough insurance to cover all costs.
Medical Payments Coverage for care expenses incurred by you and passengers in your vehicle injured in an accident.
Smoking Areas
Employees should only smoke in designated areas of the workplace. It is better to establish a smoking area outdoors to protect the health of other workers. There should be plenty of cigarette butt trays with sand or gravel in the designated smoking area.
Special Tools and Appliances
Some tools and appliances require more electrical power to operate properly. These types of devices should not be plugged into overloaded outlets or into power strips. Be sure that employees know how to properly use these items and how to check for UL stickers. Fires can still happen even if you follow the best practices associated with these list items. They are good reminders of how important it is for every business owner to have a BOP.
How Does Fire Insurance Work?
With office insurance on a BOP, you have the following coverage:
Physical losses or damages to business personal property
Office fixtures, improvements, and betterments
Lost business income
New property
When your business is damaged by a fire, you file a standard fire insurance claim after the incident. The insurance company verifies standard fire insurance claims before issuing compensation. To ensure that you follow all steps in the process correctly, contact your agent immediately if there is a fire in your small business.
Are There Other Types of Fire Insurance?
Although you won't find multiple forms of coverage that are specifically designed for commercial fires, some provisions are helpful. For example, if you notice that overloaded outlets may cause a fire that could damage your company's computers or network servers, you can benefit from adding electronic data loss coverage. It is an upgrade option for a BOP that covers the following:
Lost data
E-commerce operations
Interruption of computer operations
Since a fire from any source can destroy computer hardware, this upgrade is useful for business owners.
What Do BOP Upgrades Not Cover?
When it comes to what is not covered, the main concerns are electronic data and computers. With the upgrades, your BOP does not cover the following: • Liability due to data loss • Employee actions • Utilities • Installation, repair and testing of computers
Benefits of Fire Insurance
Having a BOP gives you peace of mind, protects your physical property and safeguards your company's future. For example, imagine that there is an electrical fire that destroys your computers and inventory. If you are unable to continue business operations because of the losses, your BOP can cover a temporary business interruption. Your physical property is also covered, and your business is more likely to recover financially. Uninsured businesses risk the possibility of being unable to reopen.
How Much Fire Insurance Do I Need?
Your business property is covered up to the limits that are specified in your BOP. A BOP covers your business whether you operate it in a commercial facility or out of your home. According to recent research, about 30 percent of small business owners run their companies from home. However, about 40 percent of home business owners do not have business insurance. One of the main reasons for this deficit is that people usually think that their home insurance policy will cover any losses. If you run a business from your home, you need a separate BOP. To learn which coverage options are right for your needs, Click Utah Insurance for more information. Serving all of Utah, including Salt Lake, Sandy, Murray, Draper, West Valley, Bountiful, Orem, Provo, Ogden, South Jordan, St George.
Business Owners Policy (BOP)
What Is a Commercial General Liability Insurance Coverage and Property Package Policy (BOP)?
If you operate a small- to medium-sized, low-risk business, you may be eligible for commercial liability insurance coverage through an affordable property and general liability package policy called a Business Owner's Policy, or BOP.
A BOP insurance package for small businesses is a single commercial insurance policy that combines property insurance with commercial general liability insurance coverage. For many small but expanding companies, buying a BOP to secure general liability insurance coverage is an affordable way to secure small business commercial liability insurance coverage. Our insurance agents in Utah can provide you with additional information.
Business insurance package policy
A Business Owner's Policy includes:
General liability insurance to cover your commercial liability, and
Property insurance for physical assets, such as contents, that are leased or owned
A BOP insurance package policy might also cover the loss of business income and extra expenses caused by an insured peril.
In general, a business owner's insurance package policy insures damaged or lost property for its replacement value. That means that in the event of a claim, you'll receive a large enough settlement to replace the property, without any deduction for depreciation. A BOP's property insurance also covers other people's personal property, if you as a business owner are legally liable for damage to it.
Group insurance quotes
Group insurance plans are offered for up to 500 employees. We also specialize in small group health insurance plans for 2-50 employees.
Why is Group Health Insurance Important?
Affordable Utah Group health insurance is an important benefit to offer employees, because it can often be the deciding factor of whether your prize employee takes a job with another company or stays working for you. Offering group health insurance to your employees can often sway them to accept lower salaries, because the health benefits are seen as a form of pay that they don't have to pay income taxes on. Group health insurance allows you to provide health care coverage to multiple people at discounted rates. It is estimated that as much as 60 percent of the United States workforce gets their healthcare coverage through a group policy that is provided by their employer. This is such an important benefit to so many employees that it can be the deciding factor on whether they change jobs, or accept specific job offers. Our insurance agents in Utah can provide you with additional information.
Affordable Group Health Rates
When many people pitch in to help cover the cost of health insurance, rates go down for all of the parties who are included in the coverage. This phenomenon makes it so that group health coverage provided to your employees is an affordable investment they are able to make for themselves and their families. Of course, rates vary based on coverage and location, but where independent health insurance may cost a person $500 every month, group health insurance provided by their employer may be as little as $250 per month. For many workers, having group health insurance through their employer is the equivalent of receiving a much higher rate of pay for their job because they get access to a benefit at much lower costs than they can obtain on their own.
General liability insurance
A BOP's general liability insurance coverage is comparable to a typical commercial general liability insurance coverage (CGL) policy, in that it protects your business against claims of bodily injury or property damage. A BOP's general liability coverage also provides business liability insurance coverage to pay the cost of:
A legal defense in a lawsuit arising from an accident that causes bodily injury
Property damage
Claims such as libel, slander and false advertising – even if those claims are meritless
General liability insurance does not protect your business in the event that a client accuses you of professional errors or negligence. Those types of claims are normally covered by a professional liability insurance policy.
At UtahInsurance.com we pride ourselves in evaluating your business insurance needs .We take the time to find out the different challenges your industry may have for insurance concerns and tailor a package that fits your risks. We also look at other exposures your business may have according to your personnel, location and future plans.
Our top-rated companies work with local businesses as well as global providers to ensure even the worst disaster won't affect your business adversely.
At UtahInsurance.com, we can design a specialized package according to your property,group insurance, liability, and casualty needs. We are also proactive in identifying any factors that may increase your premiums or change your risk, and provide consulting and risk management options to protect your business. Bundle your business and work comp policy and save even more money. Most plans can be started with only one month down payment.